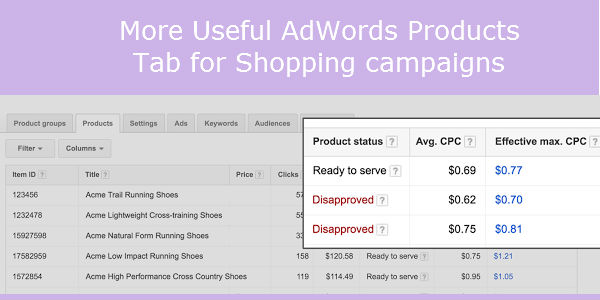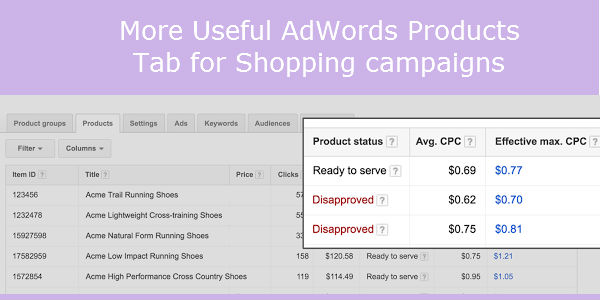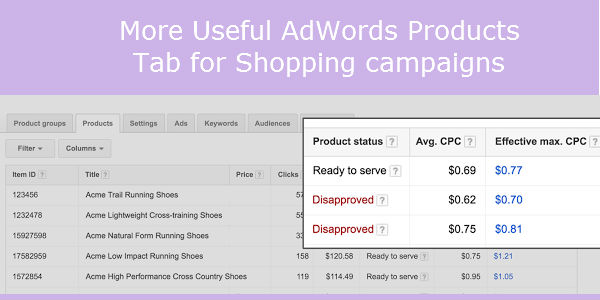 New "product status" and "effective max product-level columns, Inventory status for Products Groups,  Shopping attributes in AdWords Report Editor add by Google.
A happy news for all who are managing shopping ads on. Google has introduced two new tabs at your product inventory – "product status" and "effective max CPC".
Products status shows the information about best performing products as well exact status of products like they are disapproved, excluded or out of stock. By click on conversion, you can get the info about which products not perform well and what is reason behind it.
All time we want to know about which bidding is profitable for our product inventory. Now you can watch this data by using effective max CPC column.




Inventory status for Products Groups 
You can Use this new inventory insights in the Product groups tab. You can add following new column for measuring the performance of your product group.
Products submitted: Total products in your linked Merchant Center account
Products approved: Total of submitted products approved by Google
Products active: Approved products with a bid
Products ready to serve: Active products that are in stock
% approved: Percentage of approved from total submitted products
% active: Percentage of approved products with a bid
% ready to serve: Percentage of your total products eligible for auction
Products Groups performance analysis 
Shopping attributes like the brand or product type are now available in the AdWords Report Editor. After you've reviewed the status of your products, you can analyze your performance by building custom tables and charts to identify trends, compare sales across brands or devices, and optimize for your goals.
Visit this link for more details:
http://adwords.blogspot.in/2016/04/no-products-left-out-with-new-shopping-product-insights.html
If you want AdWords consultancy services then contact me now!